The US Supreme Court to 5 votes to 4 dismissed California Proposition 8 supporters appeal, this ruling means that California legalized gay marriage green light, same-sex couples in California most fast or get married in 25 days.
At the same time, the Supreme Court has made another ruling, in 1996 the implementation of the federal "Marriage Protection Act "Unconstitutional, which means that 12 states and Washington, DC gay marriage couples enjoy nationwide heterosexual couples the same federal marriage benefits and rights.
California voters in November 2008 with 52 percent support rate passed Proposition 8, the proposal to define marriage is a man and a Combining woman, prohibit same-sex couples to marry.
Since then, same-sex couples and supporters of Proposition 8 lawsuit from the federal district court in San Francisco has been hit the Supreme Court in Washington. The first issue marriage licenses to same-sex couples in the US city of San Francisco, hundreds of people early in the morning 7:00 on the same day waiting for the Supreme Court gathered in the municipal hall historic ruling.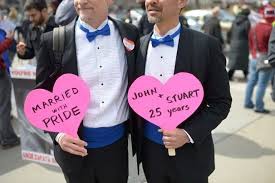 February 14, 2004 in the morning, when he was San Francisco Mayor Gavin Newsom announced the award in here knot of same-sex couples marriage certificate. The first is to receive a marriage certificate of the civil rights and feminist movements over the age of 80 promoters, Phyllis? Lev in Grace and Del? Martin, who fell in love 52 years.
Now Martin has died, 89-year-old Ryan and incumbent deputy governor of California Gavin Newsom, San Francisco Mayor Li Mengxian, City Attorney Dennis? Herrera and other city officials appeared on the day of the party. Newsom and Li Mengxian are saying that "This is a historic day for the American people."
Newsom said that, like Phyllis? Ryan and Del? Martin this love for a lifetime of same-sex couples should not bethe waiting for someone to tell whether they can marry.California same-sex couples need to wait for the 25th to receive a marriage certificate. During Proposition 8 supporters can be Seek court review, the court takes several business days to process.
Currently the United States has 12 states and Washington, DC, same-sex couples can register marriage.Falls this weekend in San Francisco's annual Gay Pride parade, tonight in San Francisco, San Jose and other a number of cities from a variety of celebration activities will be held the evening together.
After obtaining the freedom of marriage, you want the freedom to choose the right wedding dress: