Lace and embroidery is still the most classic match of wedding trend this season, delicate lace pattern with beautiful embroidery, vertically down of the skirt highlights the impressive temperament.
The perfect combined of classic long veil, lace, embroidery and other elements can be seen in the trend of Watters Brides wedding gowns. Lace and embroidery front Bra is the perfect combination of highlights of the wedding package, long flowing veil for us to create a graceful bride temperament, a long section waist design sketched out the perfect curve bride, graceful.
And This small exposed sexy lace straps of Oscar De La Renta is fresh, delicate lace embroidery fabric floral complicated but not chaotic,it is enough for us to see the designer's intentions and the wonderful care and embroidery. Sling dress is popular among girls, because it can be a good show waist type, leg type, to achieve the perfect visual effect Slim slimming.
Metallic lace
Metallic yarn embroidered lace, has become this year's hot wedding details. Lace bring beautiful, delicate apart, add more gorgeous metallic yarn flavor. Carolina Herrera The straps lace wedding dress, from the shoulder straps to have a lot of added silver silk skirt, so the entire wedding are shining up, more dazzling at the wedding under the lights, Bra straps sexy yet elegant models, while waist fishtail design leaving the bride look elegant.
Metallic lace wedding gown
Pronovias wedding three quarters of this heavy silver cuff embellished lace, retro rich, shoulders and sleeves bring a breath of spring with a hollow tulle, backswing dimensional organza extremely fantastic.
Long-sleeved lace retro wedding gown
Perhaps influenced by the British Princess Kate effects, designers will be on her wedding classic wedding style wedding season brought the works.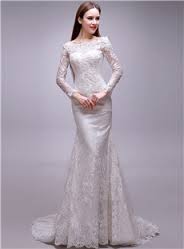 Long-sleeved lace retro wedding gown
Long-sleeved lace or lace sleeves three-quarters of the people more suited to the new church wedding, retro and full of aristocratic elegance. From Marchesa to Monique Lhuillier show, invariably play retro.