Many brides are likely to be bound by traditional concepts, such as wedding dresses must be white. In actually, a lot of stars at the wedding are also willing to try pink, blue, silver and other diverse colors on the wedding to commemorate their happy moments. In the Europe wedding field, diverse colors of the wedding gowns also gradually become no longer fresh, then which color id the most appropriate?
pink grey wedding dress
The happy bride choose the wedding dress is a gray dress from Vera Wang, it looks very noble but unconventional. Especially the large layered skirt.
Pale color of the wedding dress seems to be the best choice ,in addition to white, and in the warm yellow sunlight, this color is extraordinarily soft, innocent.
The bride who wanted to try to break a little chose a gradient style, more features than the bare pink dress.
So here we must first recommend the nude pink color!
Nude pink is indeed a lot in the wedding market ,such as cascading veil, drape Slim models ...... Because nude pink is relatively close to the color of skin , it is more suitable for the more white skin . And veil style are much more cents than satin fishtail style wedding gowns.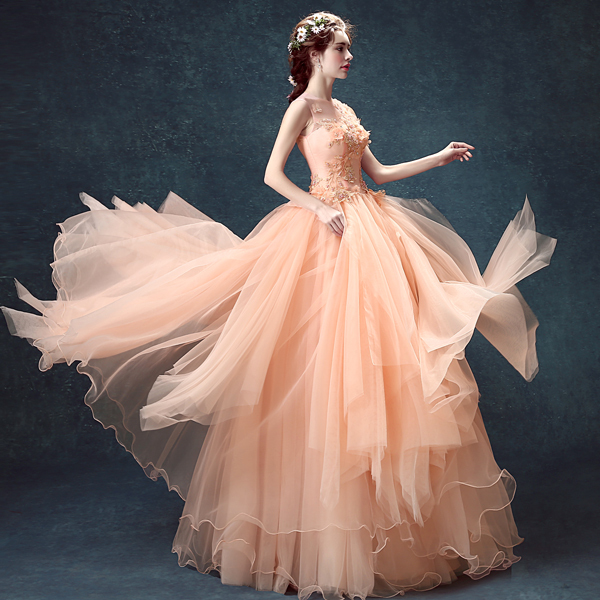 peach wedding gowns,full of fairy temperament
And nude pink color is very close to the nude color, nude wedding dress relatively more difficult to control than a pink wedding dress (limited to the bridal gowns). Because nude color is more significant dirty in terms of some extent, but clever design can be completely compensate for this. For example, the effect of folding veil to create layering color above.