Fishtail wedding dresses is harsh for the bride's body.But femininity and soft typical posture can be presented after put on it.A lot of famous stars loves it.And it is very suitable for relatively tall stature or shapely slender petite bride. Graceful curve, romantic lace small tail and elegant posture are amazing!
Lace Bra with 8 Fishbone
Bra bridal gowns is always popular classic style. Sexy plus romantic chest sequins beaded lace embellishment make the gowns a little more beautiful and romantic.Eight three-dimensional plastic fish bones. 3 in chest,5 in the back, make the bride more comfortable wearing it.
Bra bridal gowns of mermaid wedding dresses
Mermaid style with adjustable straps
Design of back hand strap is convenient for bride to adjust according to their body.So it more flexible and aesthetic wearing it. Slim fishtail wedding dresses suit for shapely bride.
Waist embroidery, waist can be a very good modification, focusing visual focus, for petite bride, can increase the sense of slender body drop!
Court Train Sheath Ivory Sweetheart Lace Wedding Dresses With Beaded
Back Hand strap design, convenient adjustable elastic girl who according to their body, wearing more flexible but also more aesthetic.Slim fishtail version type, suitable shapely bride Jiao good, very significant high thin drops.
Lace tailing
Dreamy romantic lace and 60CM tail is very elegant and at the same time ,it is convenient for brides to walk.Wearing it you can join in lawn garden wedding, outdoor wedding, or wedding photography by the seaside, are very beautiful occasion drops.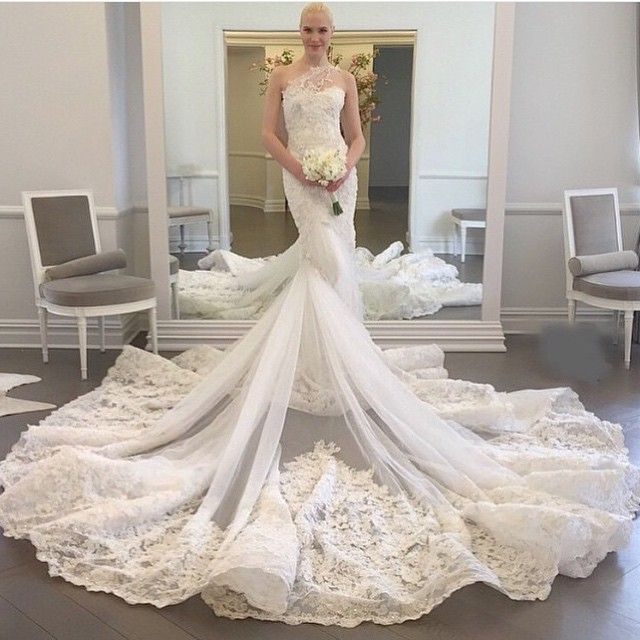 long bridal gown with trailing